The birthplace of valour, the country of worth
Glasgow, Loch Lomond and up to the Coast
Glasgow was far more beautiful than I remembered. To be fair, I only remembered the suburbs. The motorway flyover bridge. And a gallery or two. This time I drove up the Crow Road. And I admired the beautiful architecture. No time for photostops, but Google provides: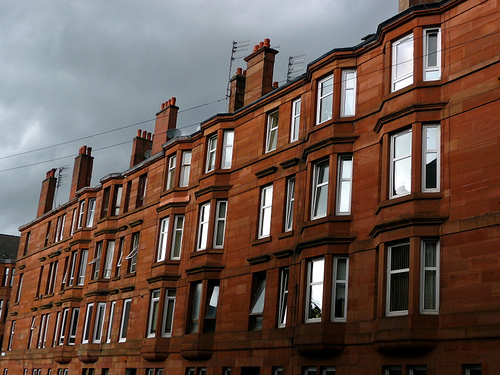 There's dissonance in admiring the ex tenements, but beauty in the warmth of the rain-soaked sandstone. Similar with the Great Glen. There's a knack to admiring the beauty of bleakness on a dark and rainy day, best achieved by not seeking too much timedepth. Work with the deep time rather than the tiny human scratch upon its face. I stayed a night on the midgy banks of Loch Lomond and at least managed some photos of the water:
The Coast of Morar
Beautiful West Coast of Scotland with its silver sands. And jaw dropping sunsets. I was playing out my own personal psychogeography as this is where I honeymooned 7 years before. And where I got the news my favourite grandparent died. So there's not a lot to say, but two sets of photos, old and new. The older gallery are the happier memories of that part of my life.
Knoydart
Britain's Last Wilderness. You launch away from Morar on the ferry, and that's the only way back unless you fancy miles hiking across wild country. And when you get there, it's like you cupped your hand and filled it with solitude to scry upon, fringed with sea and mountains.
Skye
Meant to visit Skye the first time I was up here, but I never made it. I think really I could do with spending more time there on another occasion. But so much mountain and sea! The main point of this trip was to visit Loch Coruisk and see the Black Cuillin. Slight Macfarlane fangirl moment, another spot of true inaccessibility except by boat or roughland hike.